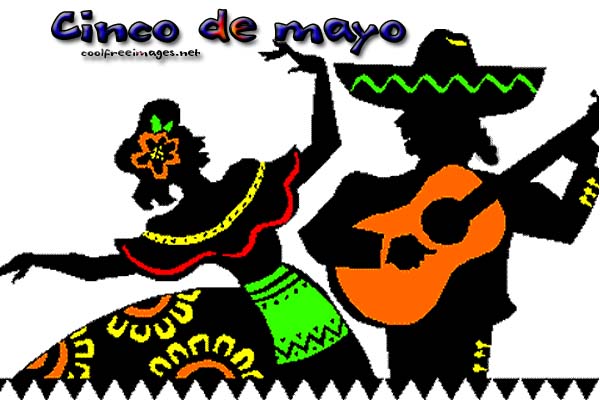 By Dr. Neo Gutierrez
May 2018
During my 32 years on the faculty of Beverly Hills High School I directed/produced yearly a major school assembly  on the topic of 5 de mayo. It was a major culture lesson through music, song, and dance of Mexico.  The school assembly was called FIESTA BEVERLY. 
Read below the story of 5 de mayo. A million thanks to terrific writer Roberto Franco Vazquez and LARED LATINA for informing us:


Mexico's "Cinco de Mayo: (5th of May)
      "El Cinco de Mayo," or fifth of May, commemorates the triumphant victory of the Mexican forces over the French interventionists in 1862. The highly out numbered Mexican force s acquitted themselves in a valiant manner against the highly trained and equipped French Army led by Veteran General Charles Ferdinand Latrille de Lorencz. 
     The over confident French Forces figured they would have an easy march from the port city of Veracruz to Mexico City. However, the Mexican forces commanded by General Ignacio Zaragosa and Brigadier General Diaz, outclassed and outman euvered the stunned stunned French Army which was humiliatingly defeated in the fortified city of Puebla.
     General Zaragosa, managed his troops with rare aplomp. The decisive manuever of the day was carried out by Brigadier General Diaz, who repelled a determined assault on Gen. Zaragosa's right flank. The dejected French invaders, many vet erans of more glorio us days, retreated to the city of Orizaba. Hence, May 5 —"El Cinco de Mayo,"— was added to the National Calendar of Holidays in honor of this heroic Mexican Victory.
     About a year later, after receiving 30,000 reinforcements from France, the French forces led by General Elie Forey surrounded the city of Puebla and bombarded it into submission. However, the glorious "Cinco de Mayo," Mexican victory, marked the beginning of the end for the French Intervention in Mexico.
     "El Cinco de Mayo," is an official holiday in Mexico and is celebrated with a host of festivals, military parades, and formal and official gatherings of elite social and political leaders.
     In America, the 5th of May, is celebrated by Mexican Americans in a similar fashion, but without all the conventional formality. Hispanics commemorate this day with outdoor folk concerts, picnics, dances, youth parades, and other relat ed festivals and activities. 
"El Cinco de Mayo,"
 offers Hispanics in the USA, the opportunity to touch base with their cultural heritage, and to take pride in one of Mexico's great military.
NEO NOTE:  Again, a million thanks to writer  Roberto Franco Vazquez and LARED LATINA  for keeping us informed so beautifully.
Now, let's go out and celebrate !