BY DR. NEO GUTIERREZ
APRIL 2018
On April 21 I will be 83, but that figure seems insignificant when  I think that the same month this year  is dear friend Nelda Drury's 100th birthday ! ! !
When Nelda found out years ago that I was going to go to New York City during the summers to study dance and get my Master of Arts degree in Dance and Related Arts, she quickly got in touch with me. She had studied at Columbia, and she wanted to make arrangements with Mrs. E. F. Young of NYC for me to rent a room in her apartment.  Nelda had rented from Mrs. Young when she attended Columbia.  And so, I ended up living two blocks from Columbia U., and I would walk everyday by the world-famous  Juilliard School of Music, which was on the way.  To this day, I have to thank Nelda for such great help, when I really needed directional guidance. Btw, Nelda also got a Master of Arts degree in Dane and Related Arts from Columbia U. in NYC, like I did.
But let's find out about Nelda. First, some notes from the San Antonio Express-News:

NELDA DRURY & SAN ANTONIO FOLK DANCE FESTIVAL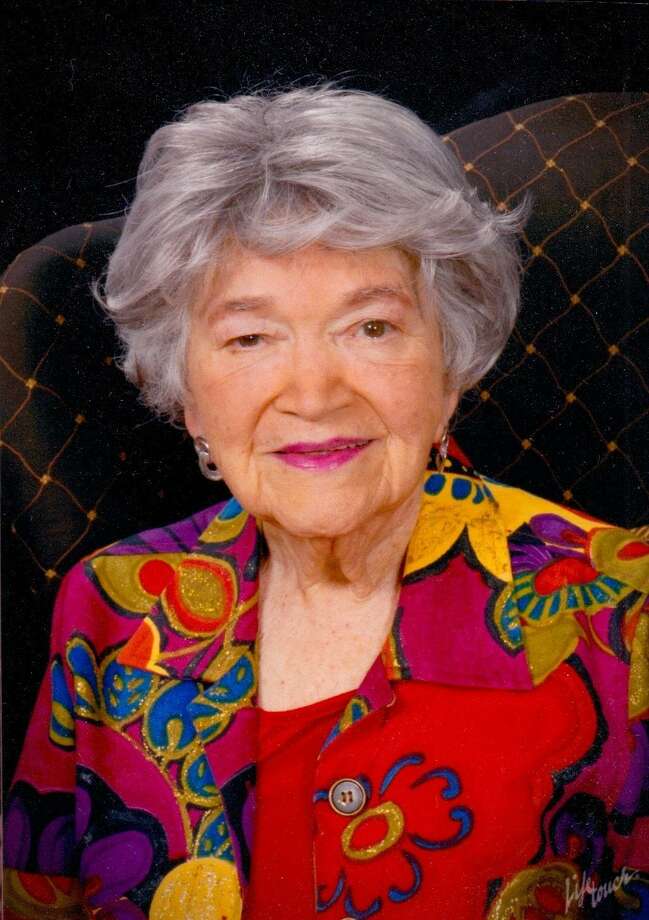 Nelda Drury, who turns 100 in April, founded the San Antonio Folk Dance Festival, which is marking its 60th anniversary.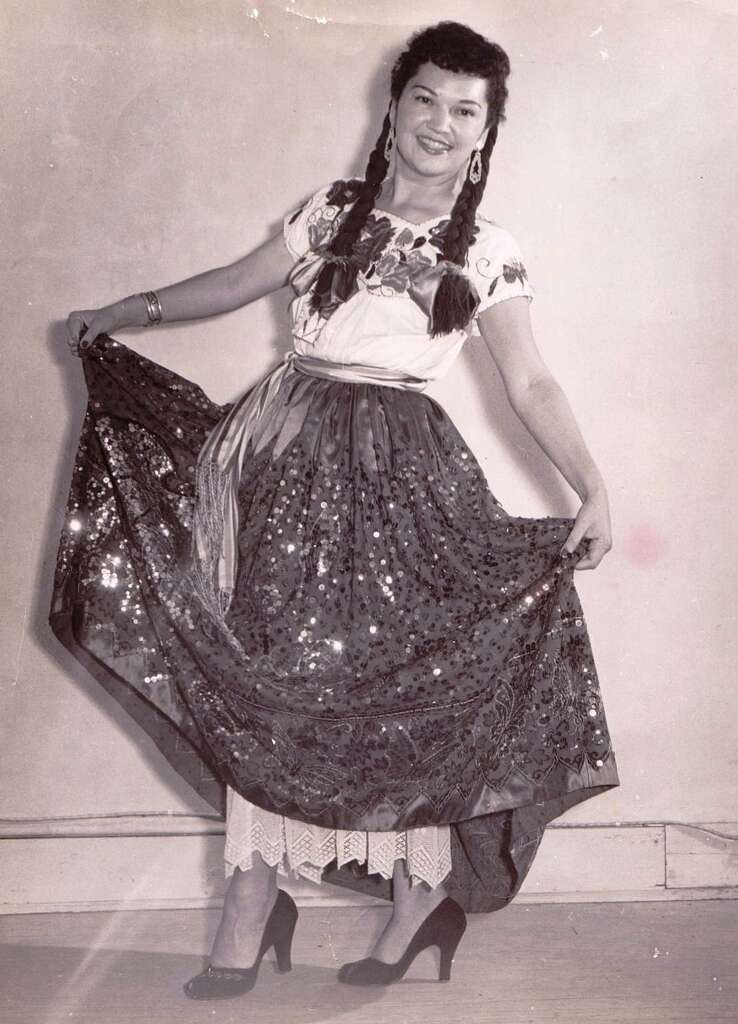 Nelda Drury posted for this photo in the 50s, which is when she founded the San Antonio Folk Dance Festival. The event marks its 60th anniversary in March, about a month before Drury turns 100-years-old.
Nelda Drury, founder of the San Antonio Folk Dance Festival, get her first taste of international dance when she was 5 years old.
A student from the teachers' college in San Marcos came to her school to teach the youngsters some dance steps.
"I remember Mother saying she got to swish her skirt and they put lipstick on her," said Liz Newton, Drury's daughter. "She said, 'This is living!'"
She never lost her love of dance. She created the dance program at San Antonio College, where she taught for 25 years; she taught all over the world, including a memorable stint in Japan that she particularly loved; and she founded the San Antonio festival, which marks its 60th anniversary this weekend.
The spotlight this year will be on Bulgarian, Romanian and vintage American dance. The event includes workshops, dance parties and two public concerts. Friday night's concert focuses on Hispanic culture and Saturday's has an international focus.
"I'm so pleased that we're still having the festival," Drury said. "And this is going to be a big one."
Drury herself is celebrating a landmark this year. In April, she turns 100.
Nelda Drury Biography

Status:        Inactive 

Specialty:   Mexican dance
Range:        Mexican/North/Central/South American dance

Nelda Guerrero Drury is the daughter of Adelfa Gonzalez, sister of María and Aminita Gonzalez, the latter two prominent Laredo, Texas, school teachers. At the age of five, Nelda gave her first dance performance during a celebration in a small town in Texas. She grew up learning a wide variety of Mexican dances. Serious study of dance began for Nelda at the University of Mexico in Mexico City under the late Alura Flores de Angeles.
While teaching Mexican dance at the Texas Folk Dance Camp, Jane Farwell invited Nelda to teach at the Mt. Horeb camp in Wisconsin. Invitations to other camps on the east and west coasts followed in close succession. In 1956, Nelda traveled with Michael and Marianne Herman on a State Department sponsored trip to Japan, where she shared the Mexican culture with enthusiastic dancers. Nelda taught Mexican, modern, and ballroom dance full time as Professor of Dance at San Antonio College in San Antonio, Texas.

She earned her bachelors degree from the University of Texas, then headed the girl's Physical Education Department at Martin High School, then the only high school in Laredo, Texasa. She left to study at Columbia University in New York where she earned her masters degree. She did additional post graduate work at the University of Mexico.
 Nelda has done extensive research in Mexican, Central American, and South American dance. Her teaching has taken her throughout the United States, Mexico, the Orient, and Europe, presenting her seminars and displaying her dance form. She has a wealth of dance costumes that she has collected on her round-the-world travels.
Nelda has been an instructor at Columbia University's Summer Graduate Seminar of Dance; an instructor at the University of Texas Graduate Seminar of Dance; a guest instructor at the universities of Wisconsin and Mexico; the American University in Beirut, and the Texas Women's College in Denton, Texas.

She also has been a guest instructor at folk dance camps: Maine Folk Dance Camp, which she was instrumental in founding; Folklore Village Camp; Idlewild Dance Camp; Santa Barbara Folk Dance Camp; University of Pacific Dance Camp (now Stockton Folk Dance Camp); Los Alamos New Mexico Institute; the National Folk Festivals in Washington, D.C., New York, and St. Louis; Lighted Lantern Folk Dance Camp above Boulder, Colorado; The Folk Arts Center in Boston; and the New England Folk Festival, also in Boston.

She writes, "I am so blessed to have had the opportunity to be involved with folk dance since the late 1940s, early 1950s, and to have gotten to know, work with, learn from people such as Vyts Beliajus, Dick Crum, Jane Farwell, Alura Flores de Angeles, Madelynne Greene, Michael and Mary Ann Herman, "Uncle" Ralph Page, Dave Rosenberg, and so many other wonderful folk dancers."
Nelda retired from her faculty position as head of the Danced Department at San Antonio College in Texas in 1986, but in 1995 she received the Ford Salute to Education, presented by Ford vice president Ross Roberts, which reads, "Nelda Guerrero-Drury is recognized nationally and locally as one of the most prominent figures in performing arts – specifically International Folk Dance. She is an inspiring individual who has contributed over 40 years of her life teaching folk dance to many students and educators in San Antonio and throughout the world. Her folk dance teaching skills and talents have been a "passport" to such countries as Japan, Switzerland and Germany. Nelda is a retired Professor Emeritus from San Antonio College where she founded the Annual Folk Dance Festival.

She continues to stay active by teaching in folk dance conferences and generously volunteering her time at the Westminster Square Senior Citizens Apartments and Our Lady of the Lake University."
She was conferred with the National Dance Association (NDA) with its highest award given for a distinguished record of accomplishment at the NDA's annual meeting in Cincinnati, Ohio, on Saturday, March 31, 2001.

This award was not only a great honor for the personal affection and regard of her colleagues in the dance world, but also the first time the award has gone to a teacher with a community college career. She received the "Heritage Award" from the National Health Physical Education and Dance Association, during which she was given a scrap book filled with congratulatory letters from other dance enthusiasts and teachers. In 2008, Nelda received an award for "special recognition for her 50 years of dedicated work" for the San Antonio Folk Dance Festival. In 1994, she received the National Folk Organization's "Certificate of Merit" and in 2014 their "Preserving Our Heritage" award.
Nelda is the Vice President of the International Folk Culture Center in San Antonio, Texas, where she directed the weekly International Dance Program and its outreach programs.
Nelda writes, "A bad left knee keeps me from hopping around like I used to do. I'm a professional volunteer now!"

She continues to organize folk dance workshops and seminars in Texas while her son Jimmy Drury and daughter Liz Drury continue the family teaching tradition. Nelda no longer teaches or travels.
Dances Nelda has taught include Caballos Panzones, Carnavalito, Chiapanecas, Chilena Guerrerense, Colas, Country-Western Schottische, El Ausente, El Bolonchon, El Huateque, El Jarabe Tapatío, El Limpia Sillas (Ranchera), El Mezquitón, El Naranjo, El Rascapetate, Evangelina, Guadalquiver, Guerrerense, Isas, Jarabe de la Botella, Jarabe Tapatio, Jarabe Michoacano, Jesusita en Chihuahua, Jota Criolla, La Adelita, La Bamba, La Bruja, La Capsula, La Chilena, La Danza de los Machetes, La Danza de los Viejitos, La Varsouvianna, La Jota Tapatia, Las Iguiris, Los Jorongos, Los Viejitos, Lucero de la Mañana, Mexican Mixer, Mosaico Mexicano, Pezinho, Polka Alegre, Ranchera, Santa Rita, Sonajeros, Tango Poquito, Teatro Principal, Ten Step Polka, Tiempos Aquellos, and Tilingo Lingo.

NEO NOTE:  HAPPY  100TH  BIRTHDAY, NELDA ! ! !  WE  LOVE  YOU  !  !  !