CHER  AT  71 GETS ICON AWARD AT  BMA SHOW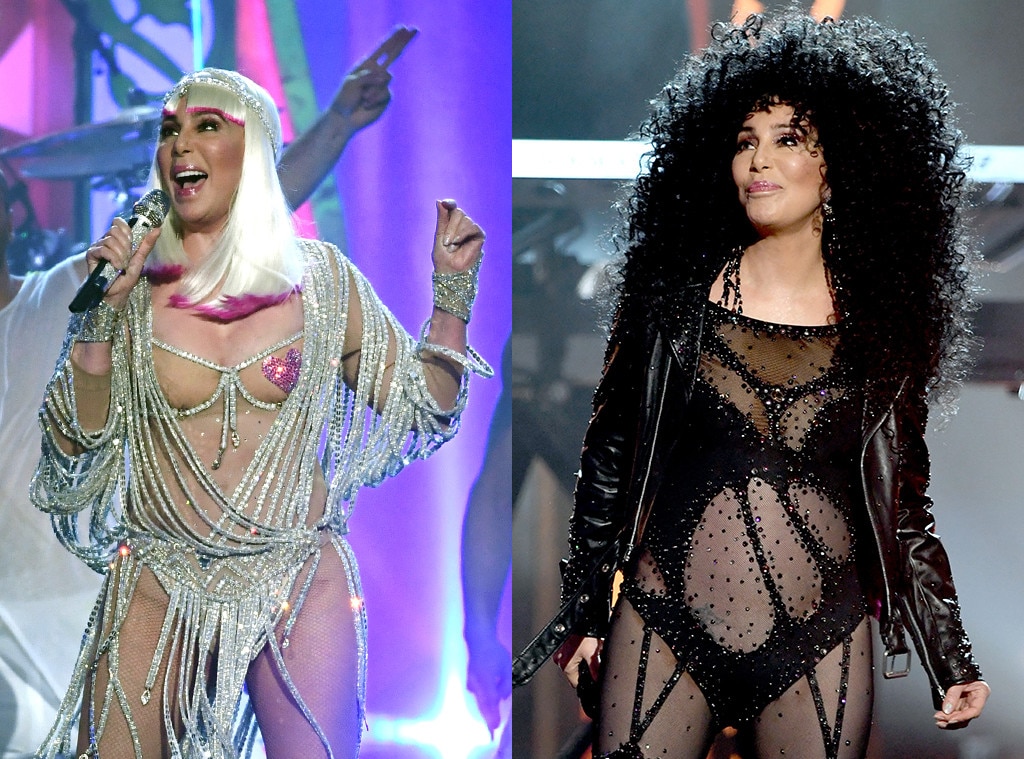 MAY 2017
When Cher performed in May for the Billboard Music Awards and received in Icon trophy for her incredible history of performing terrific music, I shared her print foto with friends by email.
When Raul Flores answered, I was shocked to find out–Cher performed in Laredo on  Nov. 23 during her 2002 national tour back then. Raul was my 9th grade student at Christen in Laredo in 1957-58, btw. Raul saw Cher perform in Laredo at the Laredo Entertainment Center with almost 12,000 seats, and there was no empty seat in the house during that show. Cher did a total of 275 shows in the U.S. that year with a total gross of $1l88 million. Her total U.S. tour attendance was  just short of 3 million spectators, altogether.
Raul, who was about 60 when he saw the Cher show, doesn't remember how much he paid for the tickets to see Cher in Laredo.
Raul writes:
It was an incredible show! Like a Vegas Show. I remember her saying that this ONE show would PROVE once for all who was, and still is, THE. REAL DIVA!! And I think she did just that…and more.
Wikipedia, the free encyclopedia, tells us re: Cher and her legacy and influence:
According to Goldmine magazine's Phill Marder, Cher "has been and remains today one of the Rock Era's most dominant figures". He described her as the leader of an effort in the 1960s to "advance feminine rebellion in the rock world [and] the prototype of the female rock star, setting the standard for appearance, from her early hippie days to her later outlandish outfits, and her attitude—the perfect female punk long before punk even was a rock term." Cher's unconventional outfits and dominant attitude over her partner Sonny Bono have influenced the presence of women in rock music, inspiring contemporary singers such as Marianne Faithfull and Nancy Sinatra. According to Jeff Miers from The Buffalo News, "Her music has changed with the times over the decades, rather than changing those times through groundbreaking work"; however, he felt that subsequent female singers such as Cyndi Lauper, Christina Aguilera, Lady Gaga, and Madonna, whom he calls "her generation's Cher", were heavily inspired by Cher's abilities to combine "showmanship with deep musicality … to make valid statements in a wide variety of trend-driven idioms … to ease effortlessly between pop subgenres [and] to shock without alienating her fans", as well as by her charismatic stage presence and the strong LGBT support among her fan base.Billboard's Keith Caulfield wrote that "There's divas, and then there's Cher." She is commonly referred to by the media as the "Goddess of Pop."
Cher has repeatedly reinvented herself through various personas, for which Professor Richard Aquila from Ball State University called her "the ultimate pop chameleon". The New York Times declared Cher as the "Queen of the Comeback".] According to author Lucy O'Brien, "Cher adheres to the American Dream of reinvention of self: 'Getting old does not have to mean getting obsolete.'" Author Craig Crawford, in his book The Politics of Life: 25 Rules for Survival in a Brutal and Manipulative World (2007), describes Cher as "a model of flexible career management", and relates her career successes to a constant reshaping of her image according to the evolving trends of popular culture. He further explains that she billed "each dramatic turnaround of style as another example of rebellion—an image that allowed her to make calculated changes while appearing to be consistent."
Author Grant McCracken stated, "The term 'reinvention' is now often used to talk about the careers of American celebrities. But in Cher's case, it is particularly apt [because she] is inclined to lock on to each new fashion wave [and] is swept violently down the diffusion stream and out of fashion. Only substantial re-creation permits her to return to stardom." Her "integrity" and "perseverance" are highlighted in the Reaching Your Goals book series of illustrated inspirational stories for children, in which her life is detailed emphasizing the importance of self-actualization: "For years, Cher worked hard to become a successful singer. Then she worked hard to become an actress. Even when she needed money, she turned down movie roles that weren't right for her. Her goal has always been to be a good actress, not just a rich and famous one.
"Cher's "ability to forge an immensely successful and lengthy career as a woman in a male-dominated entertainment world" has drawn attention from feminist critics. According to author Diane Negra, Cher was presented in the beginning of her career as a product of male creativity;] Cher remembers, "It was a time when girl singers were patted on the head for being good and told not to think".However, her image eventually changed due to her "refusal of dependence on a man and the determination not only to forge a career (as an actor) on her own terms but to refuse the conventional role assigned to women over forty years old in an industry that fetishises youth", wrote author Yvonne Tasker. 
She was featured in the 16th-anniversary edition of Ms. magazine as an "authentic feminist hero" and a 1980s role model for women: "Cher, the straightforward, tattooed, dyslexic single mother, the first Oscar winner to have entered into matrimony with a known heroin addict and to have admitted to being a fashion victim by choice, has finally landed in an era that's not afraid to applaud real women." Her 1988 Oscar win signaled an important change in Hollywood, according to Berman, as Cher appeared in a negligee outfit, danced onstage and was applauded for her daring. Stephanie Brush from The New York Times wrote that Cher "performs the function for women moviegoers that Jack Nicholson has always fulfilled for men. Free of the burden of ever having been America's sweetheart, she is the one who represents us [women] in our revenge fantasies, telling all the fatheads … exactly where they can go. You need to be more than beautiful to get away with this. You need to have been Cher for 40 years."
The reverence the show community holds for Cher has been attributed to the accomplishments in her career, her sense of style and her longevity. Alec Mapa of The Advocate elaborates: "While the rest of us were sleeping, Cher's been out there for the last four decades living out every single one of our childhood fantasies … Cher embodies an unapologetic freedom and fearlessness that some of us can only aspire to." Rolling Stone's Jancee Dunn wrote, "Cher is the coolest woman who ever stood in shoes. Why? Because her motto is, 'I don't give a crap what you think, I'm going to wear this multicolored wig.' There are folks all over America who would, in their heart of hearts, love to date people half their age, get multiple tattoos and wear feathered headdresses. Cher does it for us." Alexander Fury ofThe Independent wrote that Cher "represents a seemingly immortal, omnipotent, uni-monikered level of fame." Bego stated: "No one in the history of show business has had a career of the magnitude and scope of Cher's. She has been a teenage pop star, a television hostess, a fashion magazine model, a rock star, a pop singer, a Broadway actress, an Academy Award-winning movie star, a disco sensation, and the subject of a mountain of press coverage."
Achievements and recognition
Throughout her solo career, Cher has sold 100 million records worldwide, becoming one of the best-selling music artists of all time.She is the only artist to date to have a number-one single on a Billboard chart in each decade from the 1960s to the 2010s. She has held U.S. Billboard Hot 100 number-one singles over the longest period of time in history: 33 years, seven months and three weeks between "I Got You Babe", which topped the chart for the first time in August 14, 1965, and "Believe", whose last week at number one was April 3, 1999. With "Believe", she became the oldest female artist to have a U.S. number-one song in the rock era, at the age of 52. Billboard ranked her at number 43 on their "Greatest Hot 100 Artists of All Time" list. In 2014, the magazine listed her as the 23rd highest-grossing touring act since 1990, with total earned revenue of $351.6 million and 4.5 million attendance at her shows.
In 2003, Cher appeared at number 41 on VH1's list of "The 200 Greatest Pop Culture Icons", which recognizes "the folks that have significantly inspired and impacted American society". She was ranked 31st on VH1's list of "The 100 Greatest Women in Music", based on the period 1992–2012. Esquire magazine placed her at number 44 on their list of "The 75 Greatest Women of All Time"]In a 2001 poll, Biography magazine ranked her as their third favorite leading actress of all time, behind Audrey Hepburn and Katharine Hepburn. She was featured on the "100 Greatest Movie Stars of our Time" list compiled by People.] She is one of the few artists to win three of the four major American entertainment awards (EGOT—Emmy, Grammy, Oscar, and Tony)] and one of five actor-singers to have had a U.S. number-one single and won an acting Academy Award.
NEO NOTE:  And that is who Laredo saw sing  in 2002.